Thank you for supporting THE Merry Mixers!
Your donation provides meaningful support to our local hospital (MGH for Children @ NSMC), specifically funding the staff and services provided to over 5,400 children, teens and local families by the Family Resource Center. Donations of any amount make a collective difference. Donations may be acknowledged in the name of the donor, or the donor may choose to recognize a loved one, friend or caregiver. To learn more about our donor levels, please click here.
2019 - 2020 FUNDRAISING INITIATIVES
This year the 2019 - 2020 fundraising efforts will aim to provide the Department of Pediatrics with state-of-the-art medical equipment and training, allow for the Family Resource Center to continue vital programming and aid in the expansion and development of both the Inpatient and Outpatient Pediatric Psychiatry services. More specifically, funds raised this year will support three integral areas of the hospital:
Department of Pediatrics
Purchase of a pediatric simulation doll designed to help providers of all levels

develop the specialized skills needed to effectively communicate, diagnose

and treat young patients in nearly all clinical areas.

Staff training on the use of state-of-the-art medical equipment.
Family Resource Center
Sustain vital programming including behavioral health groups, mindfulness

programs and free support groups.
Pediatric Psychiatry
Enhancing the new pediatric floor of the Epstein Center for Behavioral Health

with murals/artwork to welcome and comfort patients.

Ensure all children admitted to the hospital have proper clothing and toiletries during their stay.

We are committed to raising funds and awareness for these departments so they can continue to provide exemplary service, education, and support to the children in our community. We look forward to another successful fundraising year ahead with you!
Thank you for your contribution!
If you prefer, you can send a check made payable to "Merry Mixers" and mail to:

Merry Mixers
P.O. Box 1282
Marblehead, MA 01945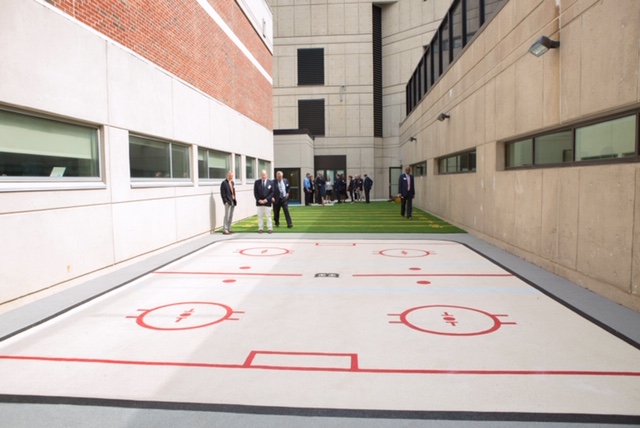 Hospital executives and doctors tour the brand new Children's Courtyard at NSMC. Merry Mixers fundraising efforts over the last two years were critical to making this dream space a reality for pediatric and adolescent patients.
OTHER WAYS TO GIVE
AMAZON SMILE
The Merry Mixers are now linked to Amazon Smile! The Amazon Smile Foundation will donate 0.5% of the purchase price from your eligible AmazonSmile purchases. Simply visit smile.amazon.com and select Merry Mixers Inc as your charitable organization. Remember every little bit counts!
TRANSFER FROM AN IRA
If you are older than 70 1/2, you may make a direct distribution through your IRA to charity, tax free. Contact us or your financial advisor for tax-exemption information.
GIFT IN YOUR WILL
These gifts may be in the form of cash, stock, insurance or real estate. Many offer life income and charitable income-tax deduction.